How To Make Keto Nutella
Fresh croissants smothered in Nutella and a hot flat white is my idea of breakfast heaven. Notice how I said croissants and not croissant? 🐽
I love Nutella spread on anything (maybe not on or near fish 🤷). It's a rich, creamy and instant chocolate high but unfortunately not one for keto days. To combat this, I decided to make my own 'Keto Nutella' and share it with my followers (I do hope somebody actually reads this 😂) So this weeks short blog is all about making your own 'Keto Nutella'. It requires minimal effort, a handful of basic ingredients and about 15 minutes of your time!
Did you know that Nutella is actually Italian? I've just given you another reason to visit Italy. Some other reasons to visit may include Pizza, Gelato, Prosecco, Spaghetti, nice weather and perhaps the Colosseum. Anyway, the chocolate spread was originally created in 1946 by Ferrero as a solution to the shortage of cocoa supplies as a result of WWII  was originally called Giandujot. This recipe could come in useful if you are ever on Who Wants to Be a Millionaire 😉.
What's so bad about regular Nutella?
✔  2 tablespoons of regular Nutella has 200 calories, 22g of carbs, 11g of fat and 3g of protein.
✔  2 tablespoons of Keto Nutella in comparison has 187 calories, 3g of carbs, 18g of fat and 4g of protein.
The carbs are the issue here as a person following a keto or low carb diet can generally only consume 20g of carbs a day. Making your own keto nutella means you still get to enjoy the delicious taste but without wasting all your carbs for the day!
*Recipe makes 2 jars which is approx 15 servings of 2 tablespoons!
What You Need
✔  

1 cup peeled hazelnuts (300 g/ 10 oz)

✔  

1/2 cup almonds (75 g/ 2.6 oz)

✔  

1 bar 85-90% chocolate (100 g/3.5 oz)

✔  

1 tbsp coconut oil (15 g/ 0.5 oz)

✔  

2 tbsp sweetener- must be powdered (20 g/ 0.7 oz)

✔  

1 tbsp cocoa powder (5 g/ 0.2 oz)

✔  

2 tsp vanilla

✔  

heavy cream (120 ml/4 fl oz)

✔  

Good pinch of salt (helps balance the sweetness)

✔  

A decent food processor
What to do
1.Preheat the oven to 375 °F/190 °C. Spread the hazelnuts and almonds on a baking tray. Bake for about 8-10 minutes, until lightly browned. Remove the nuts from the oven and let them cool for 15 minutes. Roasting the nuts awakens the nutty flavour and really adds to the overall flavour.
2. Then melt the chocolate with the coconut oil.
3. If you need to, blitz your sweetener to ensure it is powdered before moving forward.
4. Next, add the cooled nuts to a food processor and pulse until a smooth paste forms.
5. Add in the melted chocolate mixture as well as the remaining sweetener, salt, cocoa and vanilla and blitz.
6. While the processor is running, gently pour in the cream (you may need to warm it through in the microwave to avoid splitting) and blitz to combine.
7. Transfer your keto nutella to a jar and allow it to cool down before refrigerating for up to two months.
Enjoy like regular Nutella, on pancakes, waffles or just off a spoon 😬
Some Yummy Uses for your Nutella
Now that you've done the hard work why not try one of these delicious recipes 😍
😍 Keto Nutella Microwave Mug Cake
This recipe from Headbangers Kitchen is easy to make and takes about 90 seconds to put together.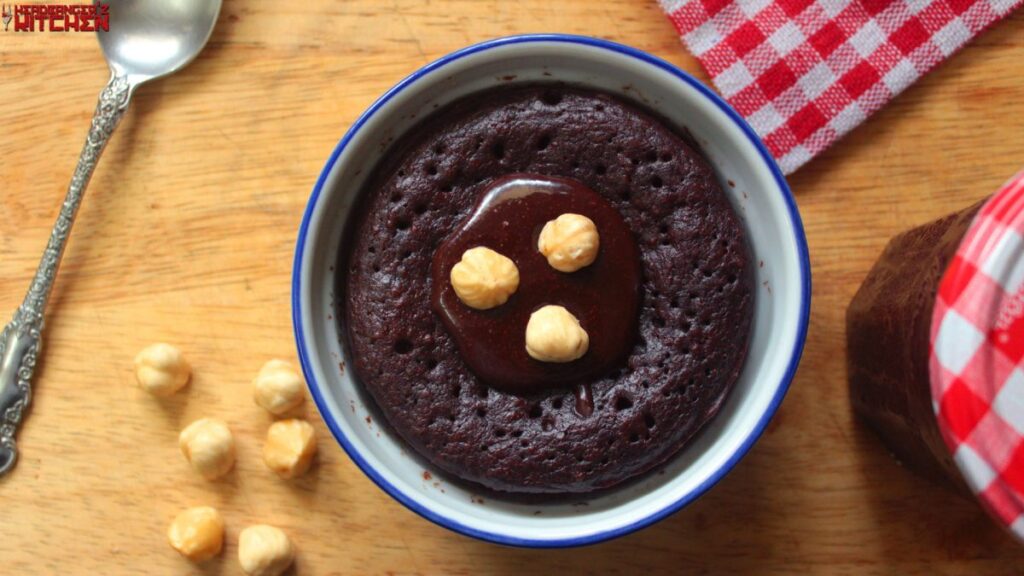 😍 Keto Nutella Cheesecake
Imagine actually being able to eat a slice of nutella cheesecake on keto. Madness 😬, check out this amazing recipe from All Day I Dream About Food.
😍 Ferrero Rocher
Simply chill you keto nutella and scoop it into a ball using your hands. Roll in chopped hazelnuts and you have instant low carb Ferrero Rochers 💗
As you can see, once you have a food processor it's really not that hard to make your own Nutella. I wouldn't advise trying to make it by hand that's for sure 🤣🤣🤣
Thanks for reading
Natasha 💗